Stadium Standard Guitar Repairs in London and Kent

Workshops in London and Whitstable
Guitar Servicing and Repair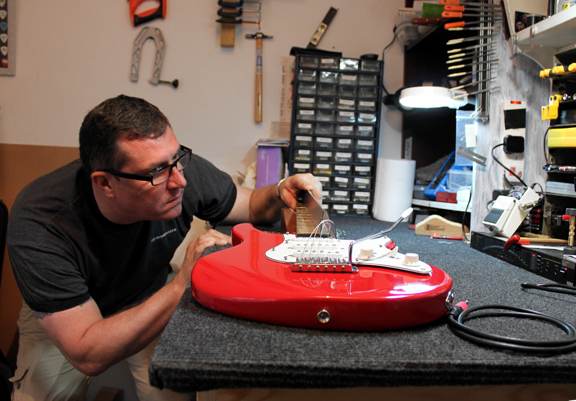 Guitar Hospital undertakes all types of guitar repairs, modifications and servicing on all makes and models of electric and acoustic guitars and basses.
With two fully equipped and dedicated repair workshops, Guitar Hospital is your first call for all your repair and servicing needs.
From re-strings to re-frets, and pickup replacement to body and neck repairs, we have the tools, knowledge and skills to get your guitar playing back to the best possible playing condition.
Each repair, service and setup comes with a one year guarantee (not including strings, of course!)
Services include:
Set-up (includes action, intonation and truss rod adjustment, clean and polish and new strings)
Fret Dress (full or partial)
Re-fret (full or partial)
Neck adjustment
Nut, bridge, tuning machine replacement
Pickup and acoustic preamp replacement and installation
Electrical repairs and modifications including pot, switch and socket replacement
Tremolo installation
Bodywork and neck repair
Please see the Price List page for full details. If the work you require is not listed please contact us for an individual quotation.
London Workshop
Suite 3
Calder Court
Pageant Steps
253 Rotherhithe Street
London SE16 5FX
Whitstable Workshop
PLEASE CALL OR EMAIL FOR DETAILS
Telephone
+44 (0)7543 821 939
Email